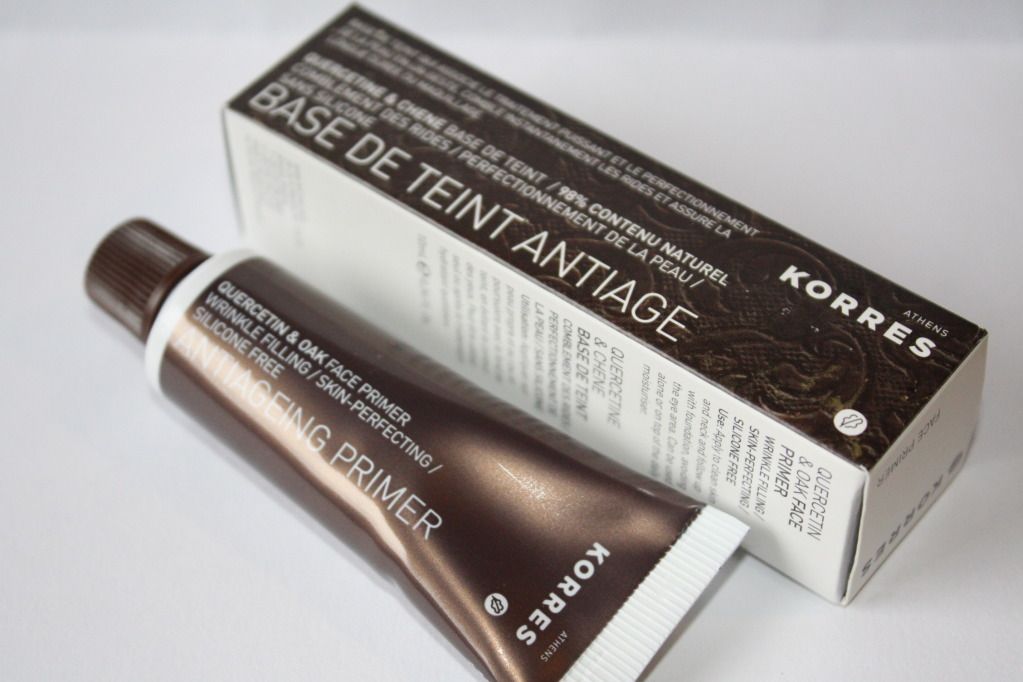 "Powerful treatment and skin-perfecting face primer in one that instantly fills up wrinkles and provides a very smooth and perfected skin surface, ensuring long lasting make up application."
I got this Korres primer on a 500 point bag I got from Sephora and was eager to try it since I don't tend to buy face primer when I finish the ones I have. It's a tester that has 10mL of product and you truly don't need much to cover the whole face. The packaging, like most Korres products, is lovely and makes my inner graphic designer squeal. In all honesty, I'm not an all knowing Korres person, I have their tinted lip balm and that's it, so trying out the primer was pretty exciting. Now, on to the review.
The product application is simple and easy. It applies evenly and feels velvety soft. There's no distinct smell to the product which I greatly appreciate. For a primer, it does it's job. My make up stays in place for as long as I have it on (usually 4-6 hours) and I don't feel overly oily around my T zone. It's light weight on my skin which is also a plus. However, it didn't have anything that stood out to me making me want to purchase the full product which is $33. I find it expensive and it doesn't do anything that makes me justify that price. I mean, if it were an
Hourglass
primer I'd be the first to buy it since those primers are to die for, but this one just doesn't make me want to get up and get a full one. It's good but nothing special. I'm definitely grateful I have it, since I ran out of primer, but I'm not purchasing the full one. But, it's definitely a primer you can try out if you want something light weight and low maintenance.